Memorial
The Jewish Community of Olomouc received a grant from the European Union in order to build up a memorial site containing the names of the Holocaust victims coming from Olomouc. In this project, in which the Jewish Community of Olomouc paid 33% of the costs, 4 memorial plaques made of black Swedish granite were installed on both sides of the current memorial. This memorial was built in 1949 at the Jewish cemetery in Olomouc.
The memorial plaques contain 1325 names of Holocaust victims coming from Olomouc.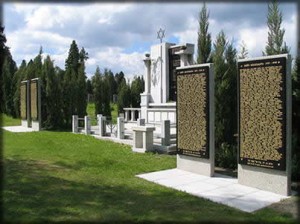 The celebratory unveiling was held at Yom ha Shoa, on 5th May 2005
The unveiling was carried out by His Excellency Mr. Arthur Avnon – the ambassador of Israel, Ing. Jan Březina – a member of the European Parliament and Ing. Vladimír Pokorný – deputy of the town of Olomouc
The list of the names was made up of the following sources:
the Prague Jewish Museum documents
the Jewish Community of Olomouc documents
the memorial plaque located at the Jewish Community of Olomouc

Some prominent citizens of the Jewish origin coming from Olomouc were arrested already after the occupation in 1939 within the framework of the so called Albrecht der Erste operation. There is no evidence of the fates of these citizens. Those who were released, were later put to transports heading to Terezín. The others were deported directly to concentration camps where they died. Most of them were registered as the victims of Holocaust either by their relatives or by the Jewish Community of Olomouc after the end of the war. However, we cannot say with confidence that all the names of the deceased victims are enlisted.
The memorial plaques were designed by Ing. Arch. Jaroslav Nováček, manufacturing and technical work were arranged by Mr. Miloš Brückner, Kamenosochařství Olomouc.